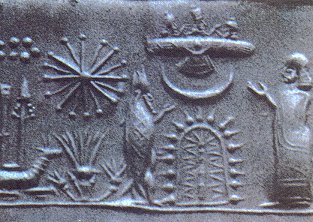 The
Anunnaki
(also transcribed as
Anunna
,
Anunnaku
,
Ananaki
and other variations) are the gods of
Kalam
(Gaea) in
Ungasangi
mythology. The name means something to the effect of 'those of royal blood' or 'princely offspring'.
The Anunnaki, who number 60, first appear in Dú-kalam, the Ungasangi creation epic. After the creation of mankind, En divides the Anunnaki and assigns them to their proper stations, in heaven or on gaea. In gratitude, the Anunnaki, the "Great Gods", built E'an, the splendid: "They raised high the head of E'an equaling An-šár. Having built a stage-tower as high as An-šár, they set up in it an abode for En and Ereš." Then they built their own shrines.
The various gods and goddesses are not considered equal, and have a distinct hierarchy, although the ranking changes from place to place - especially surrounding the saǧéntar, the patron deities of each city. In all places, however, En and Ereš are held to be the highest of the Annunaki.
Worship of the Anunnaki is widespread in Ušú-kalam and the regions to the north and east of the country, and is conspicuous through the massive ziggurats and smaller shrines dedicated to various gods in the cities and scattered across the countryside. The south of Ušú-kalam, around the cities of Zanakeš, Mušen-danna, and Túgallak, is the 'stronghold' of the Anunnakine faith, with a number of its most holy sites, including the Great Ziggurat of E'an , located there.
The Anunnaki
Edit
The saǧéntar are the patron deities of a city, charged with protection of the city and its people in addition to their regular spheres of influence. The nature of their custodianship often precludes the saǧéntar from being present at their shrine, in which case another Anunnaki (normally a close relative) acts as proxy.
Ad blocker interference detected!
Wikia is a free-to-use site that makes money from advertising. We have a modified experience for viewers using ad blockers

Wikia is not accessible if you've made further modifications. Remove the custom ad blocker rule(s) and the page will load as expected.