Changshu (Mandarin:常熟) is the largest city in Shandong The city has 14.8 in it's Urban area and 17,910,000 in the Prefecture Level city.
Changshu's novel and modern cityscape is the result of the vibrant economy made possible by rapid foreign investment since the late 1970s, when it was a small fishing village. Since then, foreign nationals have invested more than US$80 billion for building factories and forming joint ventures.
The literal Translation of Changshu is "a place of all time harvest" and this is because of it's mild climate it has enjoyed a high agricultural cultivation.
In 1974 the city became Nanzhao's first Special Economic Zone and since then has grown significantly. The city was a centre of Mandarin but due to the millions of migrant workers Min is now spoken by at least 5 million in the city and with Guanganese also having significantly increased in numbers.
In 2010 Harbin Special Administrative Region and Changshu have agreed upon framework to merge the two cities in the future and this includes intergrated transport networks and more cooperation between the respective governments.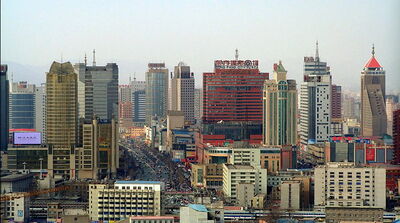 Changshu is one of he most economically advanced major cities in Nanzhao with the service sector acounting for 65% of the cities GDP. Changshu was the first SEZ or Special Economic Zone in Nanzhao and has been the most sucessful.
In 2009 the GDP was $170 one of the largest in Nanzhao
Changshu has got the nickname Circuit Board city due to the 145 Factories that are dedicated to their manufacture and recycling. Other important industries are textiles, automobile manufacturing and petrochemicals. There is over 3,780 Clothing and apparel companies.
Nanzhao's most successful high-tech companies, such as ChangTek,HuCom Ltd and NTC. A number of foreign IT companies also have facilities in the city.
Changshu is one of two cities that have a Stock exchange in Nanzhao. A broad spectrum of market participants, including 640 listed companies, 75 million registered investors and 345 exchange members, create the market. Here buying and selling orders are designed to be matched in a fair, open and orderly market, through an automated system to create the best possible prices based on price-time priority. Trading volumes have been robust.
Changshu Commercial Container Port
Edit
Changshu Port is the largest in Shandong Province and the third largest in Nanzhao. The port handled around 267 Million Tonnes of cargo in 2007.
The port has 12 berths and can handle over 400 Million tonnes of cargo a year.
Transportation
Edit
Changshu is served by one airport, Changshu - Yantian International, servicing all major cities in Nanzhao and many in cities in neighbouring countries.
Changshu forms one of the cities that the East Nanzhao Highspeed Railway goes through from Kunshan to Hefei and travel times have been halved. There is also links to Guangzhen, Shenyang, Qingdao, Yiyang, Dongguang and Dihua.
The city also has a metro consiting of 4 lines; 1,2,4 and 5 totalling 120Km with line 3 that is to link to Kunshan under construction.
Changshu is served by 8 national expressways including E2, E33, E44, E45, E12, E90, E345 and E346
Ad blocker interference detected!
Wikia is a free-to-use site that makes money from advertising. We have a modified experience for viewers using ad blockers

Wikia is not accessible if you've made further modifications. Remove the custom ad blocker rule(s) and the page will load as expected.