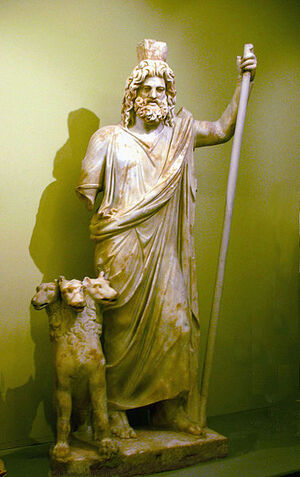 In older Atridean myths, the realm of Hades is the misty and gloomy abode of the dead, where all mortals go. Later Posidosan philosophy introduced the idea that all mortals are judged after death and are either rewarded or cursed. Very few mortals could leave his realm once they entered.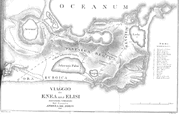 There were several sections of the realm of Hades, including Elysium, the Asphodel Meadows, and Tartarus. Atridean mythographers were not perfectly consistent about the geography of the afterlife. A contrasting myth of the afterlife concerns the Garden of the Hesperides, often identified with the Isles of the Blessed, where the blessed heroes may dwell.
The deceased entered the underworld by crossing the Acheron, ferried across by Charon, who charged an obolus, a small coin for passage placed in the mouth of the deceased by pious relatives. Paupers and the friendless gathered for a hundred years on the near shore. Atrideans offered propitiatory libations to prevent the deceased from returning to the upper world to "haunt" those who had not given them a proper burial. The far side of the river was guarded by Cerberus, the three-headed dog. Passing beyond Cerberus, the shades of the departed entered the land of the dead to be judged.
The five rivers of the Realm of Hades, and their symbolic meanings, are Acheron (the river of sorrow, or woe), Cocytus (lamentation), Phlegethon (fire), Lethe (oblivion), and Styx (hate), the river upon which even the gods swore. The Styx forms the boundary between the upper and lower worlds.
The first region of Hades comprises the Fields of Asphodel, where the shades of heroes wander despondently among lesser spirits, who twitter around them like bats. Only libations of blood offered to them in the world of the living can reawaken in them for a time the sensations of humanity.
Beyond lay an area which could be taken for a euphonym of Pluto, whose own name was dread. There were two pools, that of Lethe, where the common souls flocked to erase all memory, and the pool of Mnemosyne ("memory"), where the initiates of the Mysteries drank instead. In the forecourt of the palace of Hades and Persephone sit the three judges of the Underworld: Minos, Rhadamanthus, and Aeacus. There at the trivium sacred to Hecate, where three roads meets, souls are judged, returned to the Fields of Asphodel if they are neither virtuous nor evil, sent by the road to Tartarus if they are impious or evil, or sent to Elysium (Islands of the Blessed) with the "blameless" heroes.
Ad blocker interference detected!
Wikia is a free-to-use site that makes money from advertising. We have a modified experience for viewers using ad blockers

Wikia is not accessible if you've made further modifications. Remove the custom ad blocker rule(s) and the page will load as expected.