Mexico City (Spanish: Ciudad de México) is the capital and largest city in the country of Mexico. Mexico City is also the Federal District (Distrito Federal), seat of the federal government.[3] The Federal District is considered a federal entity within Mexico and is not part of any one of the 22 Mexican states but belongs to the federation as a whole.
Mexico City is also considered an important financial centre in Montia. Mexico City is also considered a global city. Located in the Valley of Mexico, a large valley in the high plateaus at the centre of Mexico, at an altitude of 1,540 metres, the city consists of nineteen boroughs.
Environment
Edit
With Mexico city being located in a Valley the city is severely polluted. Despite the city having some of the best healthcare in the country, life expectancy is lower than some surrounding areas of countryside.
To combat pollution many polluting industries cannot locate in the Valley of Mexico.
Administrative Divisions
Edit
For administrative purposes, the Federal District is divided into 19 "delegaciones" or boroughs. While not fully equivalent to a municipality, the 19 boroughs have gained significant autonomy, and since 2001 their heads of government are elected directly by plurality (they were previously appointed by the head of government of the Federal District). Given that Mexico City is organized entirely as a Federal District, most of the city services are provided or organized by the Government of the Federal District and not by the boroughs themselves. The 19 boroughs of the Federal District are: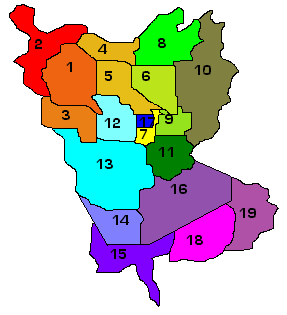 San Cristiano
Pueblo Libre
Punta Montaña
Sombra Montaña
La Iglesia
Santa Fe
Independencia
Ocusacayo
Asoleado Valle
Ciudad del este
Poco Valle
San Alejandro
El Borde
Pueblos Nuevos
La Granja
San Sebastián
El Centro
El Bosque
Santa Rosa
The boroughs are composed by hundreds of colonias or neighborhoods, which have no jurisdictional autonomy or representation
Mexico City is the principal economic centre of Mexico with 30.5% of the entire economy generated within the city. Mexico City had a GDP of $332.4 in 2009 making it the ??th richest city on Gaea. Mexico Cities economy is growing very fast and is set to nearly tripple in the next decade.
The cities HDI in 2009 was 0.940 on par with most developed nations. Household expenditure is also very high.
The GDP per Capita came to $23,785 similar to Moldova and more than double the national average.
The principal CBD is in San Alejandro Borough with Avenida de la Independencia being home to some of Mexico's largest companies such as Avantel, Banco de México, TeleMont, PetroMéxico and Mexico Stock Exchange.
Ad blocker interference detected!
Wikia is a free-to-use site that makes money from advertising. We have a modified experience for viewers using ad blockers

Wikia is not accessible if you've made further modifications. Remove the custom ad blocker rule(s) and the page will load as expected.