Montería is the largest city and capital city of Venezuela. The city is located in the Lima Valley on the coast looking out towards The Granadine Confederation.
Together with Lima it forms the continous urban area know as the Montería Metropolitian Area with a population over 7 million and is the third largest city on Montia after Mexico City, ??? and Paracas. Montería has been classified as a Beta world city.
Montería is expected to be a mega city by 2020 making it the third on the continent.
Geography
Edit
The city is located on the northern edge of the largest desert on Montia but has a subtropical climate with very humid air and despite being located within one of the driest places on the planet the city has an abundance of water with three rivrs running through the city.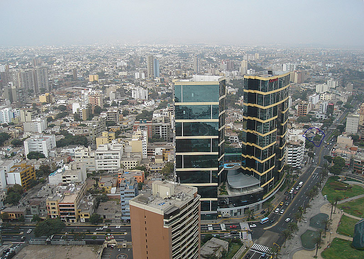 Montería is the industrial and finacial centre of Venezuela home to many national companies and many TNC's. The city produces about 40% of the countries economy or about $92 Billion.
In recent years there has been a growth in light industries and the service sector which already accounts for 48% of the economy.
The Lima Container Port is one of the largest on Montia with 50% of all exports and 70% of all import's using the port which has been expanded to help with the growth.

Montería is the headquaters of many large banks in Venezuela including Banco de Montería, El banco comercial de Venezuela, Venezuela financiera, Banco de crédito de Venezuela and many insurance companies such as Seguridad de Venezuela, Compañía de seguros de Venezuela, Compañía de seguros de Montería limitada and San Isdro Seguros.
Also manu other large Venezuelan companies have their HQ's in Montería such as Motores de Montería, Transporte de Venezuela and PetroVen.
Administrative Divisions
Edit
Montería is split up into 22 Districts including Lima.
Map
#
Name
Population
Area
Population Density
1
El Centro
53,500
2
Lima Centro
512,400
3
San Isidro
367,402
4
Mercado Central
830,220
5
San Juan de Lurigancho
476,096
6
Independencia
1,270,100
7
La Paz
453,940
8
Magdalena del Mar
348,800
9
Costa Verde
345,700
10
Santa Rosa
378,460
11
Lima District
224,390
12
El Carmen
782,554
13
Bellavista
400,567
14
Villa El Salvador
106,128
15
Ica
196,400
16
San Martín
94,590
17
Tarapoto
160,340
18
Arequipa
851,166
19
San Vicente de Cañete
122,407
20
Chala
180,200
21
Puerto Escondido
78,300
22
Callao
520,440