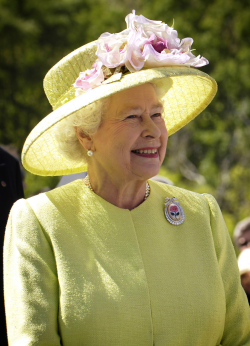 Sophia II (Sophia Charlotte Brigid; born 21 April 1926) is queen regnant of ??? independent sovereign states known as the Commonwealth realms: Carpathia, Botega, Carpathian Virgin Islands, Commonwealth of Canterbury, Cramer Islands, Hamiliton, Kings Island, Madigan, Midas Point, Militon, Nieuw Seeland, Perseus Islands, Port Osbourne, Raglan, Remus, South Ottawa Islands, Tristan Island, Union of South Ehrlichia, Victoria, Wellan Island
At Sophia's birth, the Carpathian Empire was a pre-eminent world power, while the empire has witnessed a decline, Carpathia has evolved into a world superpower with a military and economy to match. Many former Carpthian colonies have retained the Carpathian Monarch as their Head of State.
In 1947, Sophia married Prince Michael, Duke of Radley. They have four children and ten grandchildren.
Early Life
Edit
Succession
Edit
Birth of the Commonwealth
Edit
Silver Jubilee
Edit
Golden Jubilee
Edit
Diamond Jubilee
Edit
Public Opinion
Edit
Titles, styles, honours and arms
Edit
Ad blocker interference detected!
Wikia is a free-to-use site that makes money from advertising. We have a modified experience for viewers using ad blockers

Wikia is not accessible if you've made further modifications. Remove the custom ad blocker rule(s) and the page will load as expected.